Your Customers Deserve the Best
Wholesale

We are proud to offer our cheeses to stores and restaurants throughout British Columbia and partner with reputable chefs, and cheese retailers looking for specialty goods.
Our restaurant services include tailored cheese programs and customized staff training sessions to complement menus and cater to both front and back of house needs.
If you are a retailer looking to offer your customers some of the world's finest cheese we also have a separate wholesale program.
Our passionate and knowledgeable team is always interested to learn more about how we could work with you.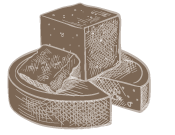 Looking for the Perfect Cheese?