Real Brothers, Real Cheese
About Us

Engineers turned cheesemongers, we opened the doors to Benton Brothers Fine Cheese in 2007. As a family owned and operated cheese shop, we celebrate the work of talented producers and cheese-makers who are as passionate about making cheese as we are about sharing it with you. Behind our cut-to-order European style counter, we believe in offering real cheese, with no artificial flavours, fresh off the wheel. We are honoured that over the years we have become synonymous with the best artisanal and raw milk cheeses Vancouver has to offer, and we thank you for your support.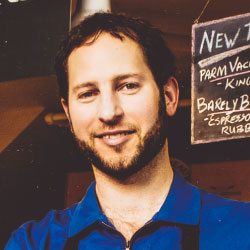 Jonah Benton
Co-Founder
Jonah graduated from Queen's University in Kingston, Ontario with a Bachelor of Mechanical Engineering but quickly learned his true passion lay in the culinary world. After more than a decade working with some of the most prominent figures in the Canadian cheese industry, holding management and purchasing positions with Alex Farms in Toronto, Whole Foods Market in Yorkville and Janice Beaton Fine Cheese in Calgary, Jonah, along with his brother Andrew, founded Benton Brothers Fine Cheese in Vancouver in 2007. Jonah is an avid wine and beer lover and teaches various wine and cheese pairing classes throughout the city.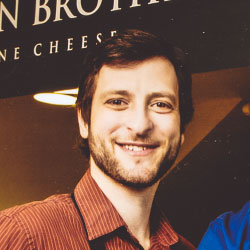 Andrew Benton
Co-Founder
Andrew graduated from Mechanical Engineering at Queen's University in Kingston, Ontario but quickly traded in his iron ring for an apron after completing a diploma in Professional Cooking at SAIT in Calgary in 2005. After working alongside his brother Jonah at Janice Beaton's Fine Cheese in Calgary, Andrew helped establish Provincial Fine Foods, in Toronto, ON, before founding Benton Brothers Fine Cheese with Jonah in 2007. Andrew has continued to further his wine education at the International Sommeliers Guild, but his down to earth approach has earned him credit for pairing cheese with everything from colheita ports to Pilsner.