Our Shop
Granville Island Public Market

Located in the heart of the Granville Island Public Market, you will find a carefully curated selection of artisan cheeses, from simple classics to unique and adventurous offerings. Our knowledgeable and down-to-earth cheesemongers are on hand to chat cheese and help you with all your culinary needs.
Hours
TEMPORARY STORE HOURS
Seniors Only
9 a.m. – 10 a.m. every day
OPEN TO PUBLIC
10 a.m. – 5 p.m. every day
Regular hours are open every day  9:00 a.m. to 7:00 p.m.
Granville Island Public Market
1689 Johnson St., Vancouver BC V6H 3R9
COVID-19 UPDATE
STOP & ASSESS: Have you travelled? Do you have a cold or a cough? Please follow Health Canada Guidelines and self-isolate. Read the official Granville Island Public Market Update here.
ENHANCED SANITATION PROTOCOLS
While we have always maintained exceptional health and safety standards, starting at the beginning of March we introduced enhanced methods to ensure the safety of our staff and customers including:
Increased frequency of and enhanced protocols for sanitation, with a concentration on high-use and high-contact areas
Increased staff communication with new, intensive cleaning protocols
Reduced in-store staff and hours of operation
NO samples offered at this time
Pre-cut and wrapped cheeses now available
Tap payment method preferred, no cash transactions
Requesting all customers and staff practice social distancing
PHONE ORDERS? We are happy to take your order over the phone and prepare it in advance. You can pay via tap upon arrival.
Flattening the curve is more important than ever and it is vital we are diligent with best practices for sanitation as well as social distancing. You are all valued members of our community and we thank you for all you are doing to keep our community safe. We wish you and your loved ones our very best during these challenging times and hope you find opportunities to connect in new ways.
Andrew, Jonah and the rest of the Benton Family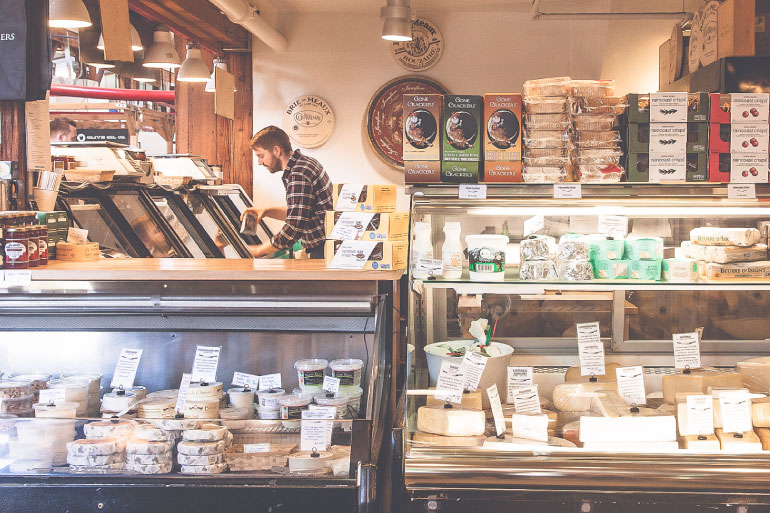 Cheese
Produced by people who are passionate about their trade, every cheese in our shop has been hand-selected by our team. We know the history, flavour profile, perfect pairing and story behind all of the 200 kinds of cheese we stock at any given time. Almost all cheeses are available to sample before you buy to ensure you purchase the perfect cheese for your occasion.
Accompaniments
In addition to our artisan cheeses, we offer a selection of thoughtfully-sourced crackers, preserves, and accompaniments with a focus on locally made goods to inspire and enjoy.